Virtual Teacher of the Year Awards
---
At the annual Teacher of the Year Awards and Banquet, the Education Foundation of Yuma County, in partnership with the Rotary Clubs of Yuma County, honors the very best current and past educators, educational contributors and the Yuma County Teacher of the Year.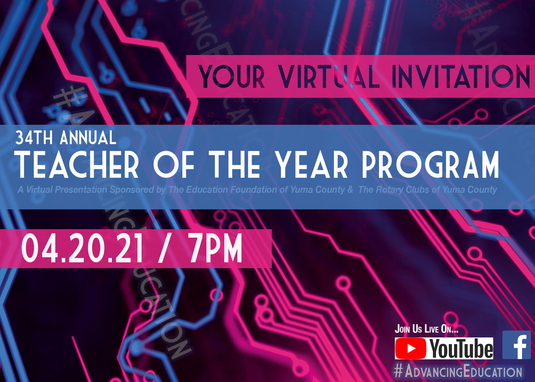 The 34th Annual Awards Banquet was held on April 20, 2021 at the Conference Center in the 3C Building on the AWC Campus and was a hybrid event that was live-streamed on the Ed Foundation's YouTube page.
If you missed the live-stream, then view the events of this exciting evening by clicking on this link:
We couldn't let the year end without recognizing these exceptional educators! This is a must-watch event that the entire family can enjoy.  
Our congratulations go out to the following category winners for Teacher of the Year:
Primary Category:  Kristina Ben Saida, Rolle Elementary School, Yuma School District #1
Intermediate/Special Area Category: Laura Danford, Dorothy Hall Elementary, Yuma District #1
Junior High/Middle School Category: Kerry Morse, Castle Dome Middle School, Yuma District #1
High School Category: Timothy Rebek, San Luis High School, Yuma Union High School District
College/University Category:
          Arizona Western College:  Deltrina Grimes, Prof. of Music, Full-time  Katheline Ocampo, Assoc.                Prof. of Psychology, Part-time
           NAU Yuma Branch Campus: B. Randolf Martin, Senior Lecturer, Education Dept. , Full-time                         Ted Ceasar,  Adjunct Professor, Arts and Sciences Dept. Part-time
And congratulations to Yuma County's 2021 Teacher of the Year:  Christopher Franey, Woodard Junior High, Yuma District #1
---
Teacher of the Year Banquet 2019
---
Teacher of the Year Banquet 2018